While MediaFunnel has always offered brand monitoring for Twitter that's based on keyword inclusion/exclusion, there is a now an additional option for brand monitoring that's based on highly sophisticated social intelligence. This option is available because of a recently developed integration with NetBase Solutions' enterprise social intelligence platform.
NetBase has developed an advanced natural language processing (NLP) engine that analyzes the words and sentence structure of Tweets, posts, blog comments, forum comments and other types of social content. The results are stored in a large social intelligence warehouse which provides access to a minimum of a year of history.
NetBase's platform also allows for very granular disambiguation of terms such as brand names in order to create the maximum "signal to noise" ratio of delivered information about a brand.
NetBase Social Intelligence Inside MediaFunnel
By using MediaFunnel's social media management system in conjunction with NetBase's Insight Workbench social intelligence, Tweets, posts, blog comments and more can be pre-analyzed for specific emotions and for overall sentiment before being displayed under MediaFunnel's brand monitoring results.
Below is an example of a Tweet that was displayed under the MediaFunnel brand monitoring tab for a specific NetBase Workbench Topic. Note that the Tweet has been assigned an overall sentiment of Negative and that the word "disappointed" is highlighted as a negative emotion.
Next is an example of a Tweet that has been assigned an overall sentiment of "Positive". "Happy" has been highlighted as an emotion and "hear" has been highlighted as a behavior.
Video Examples of Social Intelligence in an SMMS
The following video shows how easy it is to connect MediaFunnel to Netbase. The video also includes demonstrations of customer engagement use cases based on the positive and negative emotion Tweets referenced above.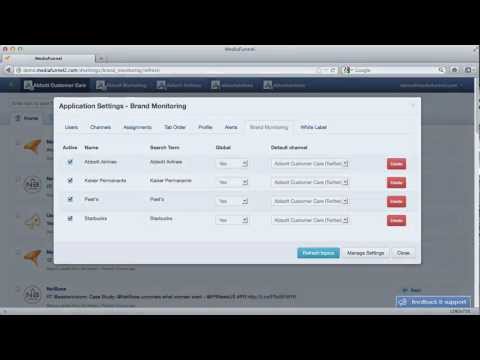 Additional functionality is already in the works. This level of social intelligence within MediaFunnel will allow for engaging customers based on more accurate, pre-qualified information.